Medicated Whitening Foundation SPF 50+
Medicated foundation with SPF 50+ brightens* the complexion as you wear it
Made from 100% premium minerals with medicated ingredients to provide reliable coverage and help enhance skin's natural glow.
*Inhibits melanin production
Contains: 5 grams
&yen4,500 (plus tax)
FEATURES

Powerful protection against harmful UV rays (SPF 50+PA+++)
Creates a powerful barrier against sun damage, yet still rinses away clean with regular face wash-which is gentler on skin than harsh cleansers.

Reliable coverage for dark spots and dullness
Mineral powder sticks fast to skin, with a natural luminescence that scatters light to hide dark spots and dullness.

Made from 100% minerals with medicated whitening ingredients*
Contains the active ingredient magnesium ascorbyl phosphate, which dissolves in moisture to penetrate the skin surface. Works on melanocytes to inhibit melanin production and help stop new dark spots from forming. Zinc oxide also helps keep skin pure, protecting it from UV damage and dryness while enhancing its natural glow.
*Inhibits melanin production

All-mineral formula is naturally gentle to skin
Rest easy knowing that this medicated all-mineral powder goes on comfortably and treats skin concerns-even on difficult skin days.
Formulated with zero:
Petroleum-based surfactants
Mineral oil
Synthetic fragrances or dyes
Parabens
Silicone
Talc
UV-absorbing agents
Nanoparticles
Learn more about our medicated product lineup
Medicated products (officially labeled "quasi-drugs") have had their functional efficacy approved by the Ministry of Health, Labour and Welfare. The products in this line have been approved to be sold with this designation.
When should you use medicated products?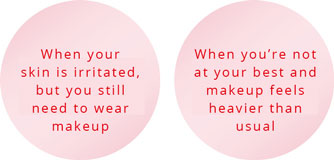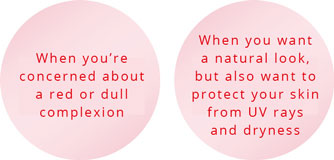 COLORS
Two shades to choose from
Ochre

For medium skin tones

Light ochre

For fair skin tones

Healthy Ochre

For robust skin tones
INGREDIENT
L- ascorbyl magnesium phosphate*, zinc oxide*, mica, boron nitride, titanium dioxide, yellow iron oxide, red iron oxide, black iron oxide, silicon dioxide, decanoyl/octanoyl-glyceride, hydrogenated jojoba oil
*Active ingredient
HOW TO USE
4 STEPS
Stand the brush vertically in the central net. Press down slightly to load it with foundation.

Use the area around the net to load the foundation deep into the brush while removing any excess.

Apply by moving the brush in small circles against the skin, working from the center out towards the edges. The key is pressing firmly with the center of the brush, as if you're massaging the skin.

Press the brush firmly enough that you feel it spring against the skin. Draw small circles to apply, as if you're gently pulling up on the cheeks.