Medicated CC Powder
Get skincare and beautifying makeup in one on days where you don't feel like wearing foundation.
Our skin-supporting CC powder is formulated with a lightness and coverage effect somewhere between foundation and loose powder, while also nourishing the skin*. Formulated in a beige hue with a touch of yellow to neutralize redness for a healthy, bare-skinned glow. Two medicated ingredients help soothe sensitive skin. Rinses away easily with soap and water.
*Prevents skin imbalances
SPF20・PA++
Contains: 5 grams
¥4,200 (plus tax), ¥4,620 (with tax)
FEATURES
Contains two different medicated ingredients
Dipotassium glycyrrhizate balances the skin by infusing the surface with moisture, covering up redness and shine. Zinc oxide adds additional coverage while preventing skin imbalances.
Natural coverage for unevenly pigmented, imbalanced skin
Formulated in a translucent beige hue with a touch of yellow to soften the look of redness and uneven coloration. Blends easily into a variety of skin tones for a healthy, bare-skinned finish.
Get a beautiful complexion, even on days when you don't feel like wearing foundation
Perfect for foundation-free days, whether you're dealing with skin irritation, playing with the kids, getting outside for some exercise, or just relaxing.
Learn more about our medicated product lineup
Medicated products (officially labeled "quasi-drugs") have had their functional efficacy approved by the Ministry of Health, Labour and Welfare. The products in this line have been approved to be sold with this designation.
When should you use medicated products?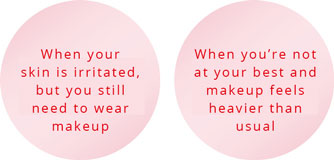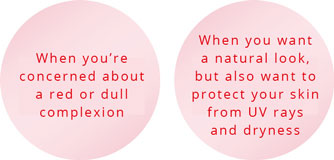 COLORS

INGREDIENT
Dipotassium Glycyrrhizinate*, Zinc Oxide, Mica, Titanium Dioxide, Yellow Iron Oxides, Red Iron Oxides, Black Iron Oxides
*Active ingredient
HOW-TO
Just four steps!
Hold the brush perpendicular to the net in the center and push down slightly to apply product.

Load the brush completely with product, allowing the excess to fall around the edges of the net.
Start in the center of the face and work outwards, blending into skin by working the brush in a circular motion. Use the center of the brush to massage the skin, pressing firmly to get the best results.

Continue pressing firmly until you feel the spring of the brush respond, blending in circles while gently pushing into the cheeks.